Robert Saurwein
[ HOME ] [ CONTACT ] [ GERMAN ]
CATALOGUE 31 PICTURES
BIOGRAPHY
Robert Saurwein, Innsbruck 1. 7. 1907 - †1942, went missing in action in Serbia. He attended the Federal Secondary College in Innsbruck, Department of Arts and Crafts, studied at the Stuttgart Academy and went on study trips to Italy and Germany. In the years 1932/33 he was a member of the "Secession Innnsbruck", in 1933/34 a member of a group called "Der neue Bund". Robert Saurwein created colour woodcuts depicting Tyrolean motifs as well as watercolour landscape paintings and large figural compositions using tempera and oil. Due to his premature death, Robert Sauerwein probably created fewer works than the orther two artists. His prints have spread all over the world.
Robert Saurwein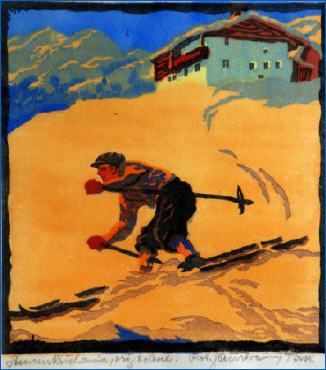 Robert Saurwein
[ HOME ] [CONTACT ] [ GERMAN ]
Copyright © 2009-2018 by Autor. All Rights Reserved.